Alien Blaster
Alien Blaster
Controls:
wsad / arrow keys - movement
mouse movement - look around
left mouse button - fire weapon
Objective:
Blast all the Aliens!
Collect Ammo / Hearts
Reach the Exit
To view credits press 'C' key at title screen
To Exit press the 'ESC' key
###########################
Bug Alert! (for standalone versions)
After pressing the ESC key to pause, if you left click on the Quit button, the game won't quit unless you press the Enter / Return key. Not sure why this is so.
Download
Click download now to get access to the following files:
alien blaster.app.zip
22 MB
Comments
Log in with itch.io to leave a comment.
Thanks for participating! See you next year!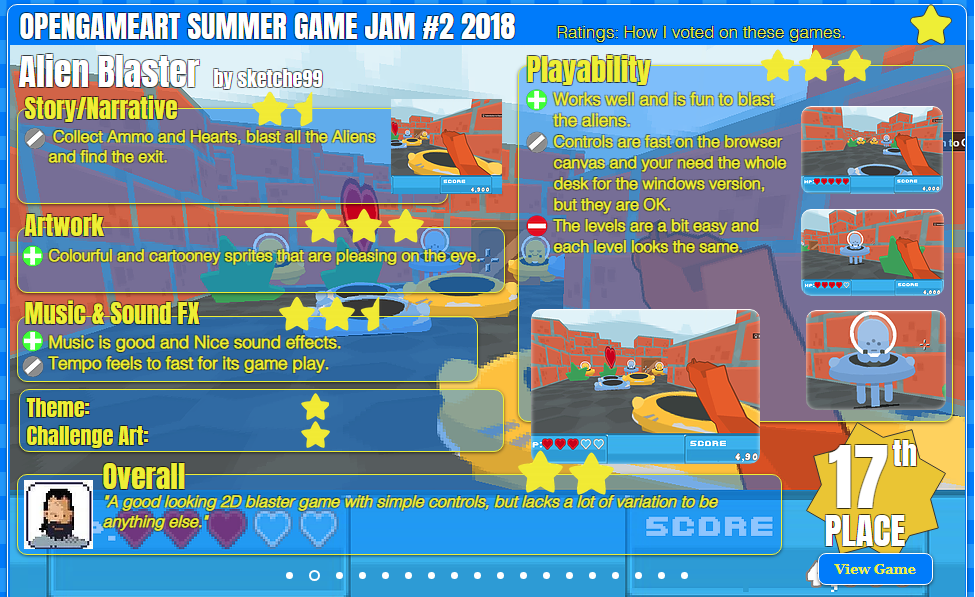 Fun game, it reminds me of Doom as well lol
It reminds me to old 3D games where 3D meant to be sprites turning towards to you :D

Yeah it was inspired by an old 90s DOS game called "Chex Quest" that came in boxes of Chex cereal!